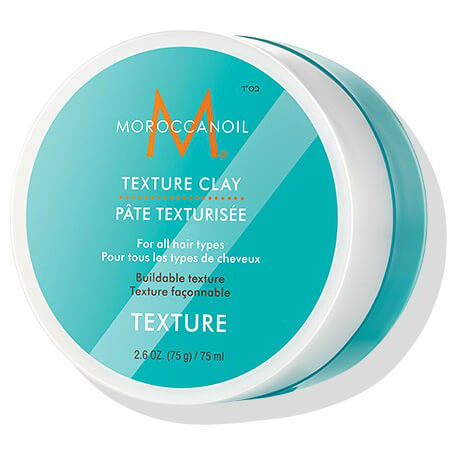 You may have seen us bang on about Moroccan Oil before…we cannot get enough of the stuff!
Moroccan Oil is an award-winning formula infused with Argan oil – an all-round magical oil for all hair types. It has both styling and conditioning benefits, creating long-lasting smoothness, increased manageability and boosts shine. It also smells divine – putting any Moroccan Oil product in your hair will instantly transport you to a beach bathed in sunshine. Seriously.
Their Texture Clay is one of our favourite styling products – it allows you to achieve a versatile looks with a matt texture. It is designed to tame and control frizz. It allows you to create natural looks with strong hold (without a horribly sticky, greasy finish)! Got thin hair? No need to worry – this stuff doesn't weigh your hair down or make it dull and stiff – despite having a good level of hold.
Another bonus is that Argan Oil is fantastic for dehydrated and damaged hair. It contains a lot of antioxidants, and vitamin E which combined naturally help increase hairs elasticity and consistently restore shine to dull hair.
It's incredibly easy to use as well – just rub a small amount between your palms and work it through damp or dry hair. And then you're ready to go!
We love any product where a lot goes a long way and is so versatile (it's unisex – don't tell your girlfriend)!
We carry a whole range of Moroccan Oil products, so why not ask us about it next time you're in? We're all fully trained in all of the products we use so even if you want to try before you buy – ask your stylist which product she suggests for your hair & how to use it!