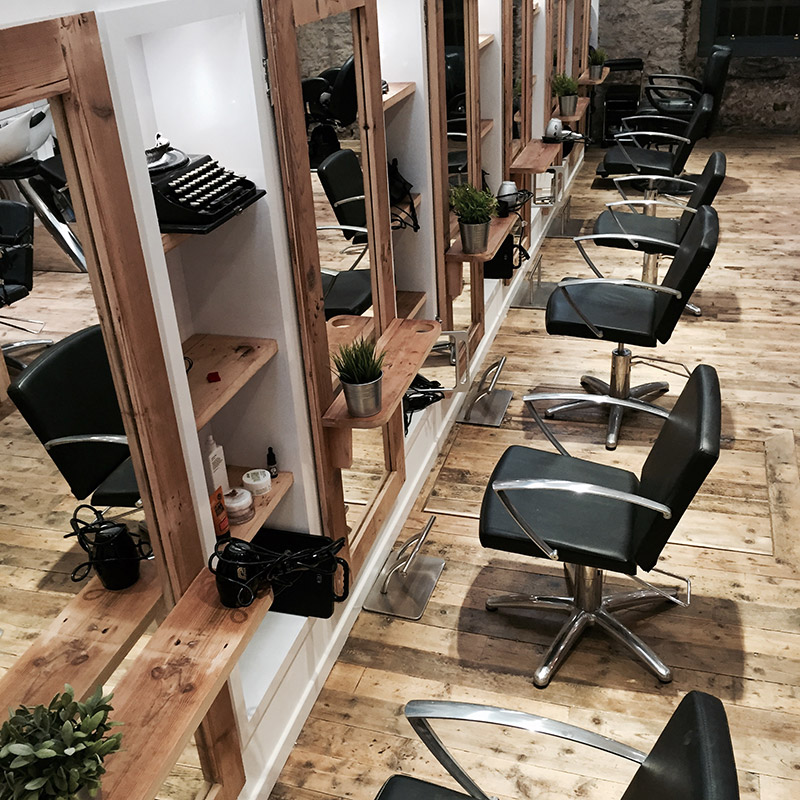 SUSTAINABLE INTERIOR
In 2016 we had a full refurbishment of the salon and made the decision to become an Eco salon.  Our interior has been designed and built with sustainability in mind. Our mirrors are made from reclaimed church pews, and our waiting bench is also a reclaimed pew. Our floor has been reclaimed from a renovated cottage. Old sleepers and reclaimed wood have been used to make our island unit. Our existing back wash units and reception desk have been upcycled.
LOW ENERGY
All of our lighting is LED low energy. We have an eco washing machine, and our hair dryers are parlux eco dryers. Our wood flooring retains heat for longer than tiles and other hard flooring techniques which will help save energy on heating.
RECYCLING
We are committed in the salon to reducing our waste and recycling & we have systems in place to separate waste and recycle.
PARTNERSHIPS
We have signed up to the Resource Efficiency pledge with @resourceScot pledging to improve recycling, energy efficiency and keep Scotland clean. We are also committed to fundraising for WaterAid UK and regularly do fund raising events for this amazing charity.  We feel blessed to have an abundant supply so feel it is vital to support this charity which is committed to getting safe water, sanitation and hygiene to everyone, everywhere by 2030.
PRODUCT RANGES
We now only use products that are sulphate, paraben and cruelty free. We are committed to using ethical companies like Moo & Yoo Edinburgh and The Green People. All of our facials use the fully organic range from The Green People and please ask in the salon for full details on all of our products.
Gift vouchers available in the salon or our online shop